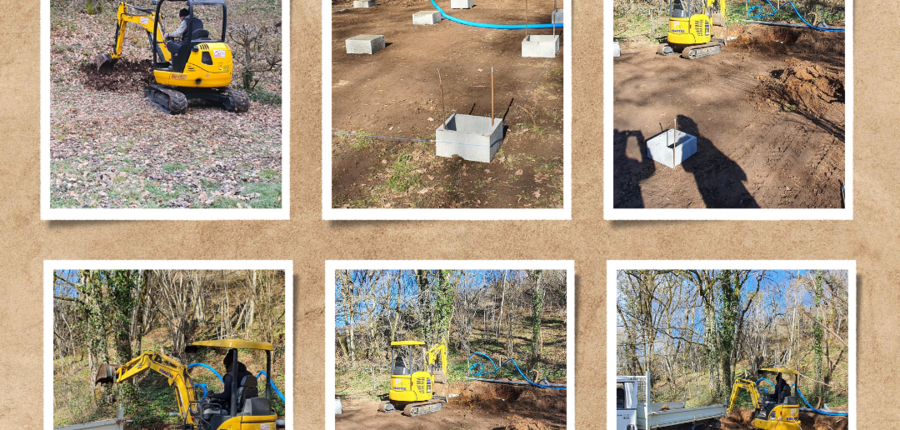 Earthworks lodge cape town
The Moulin de David campsite is currently in the midst of a major construction project, with a team of diggers working on the site to prepare for the installation of Lodge Cape Town, a new accommodation option planned for the near future.
Earthworks are an important step in preparing the land and ensuring a solid foundation for the new buildings. Earthworkers use a mechanical digger to dig trenches and pits, move piles of earth and level the ground. They also ensure that water drains properly and that the foundations are solid to guarantee the stability of the huts.
Cape Town lodge cabins are a type of wilderness accommodation inspired by the lodges of South Africa. They are designed to offer modern comfort in a natural and unspoilt environment. The cabins will be equipped with everything you need for a pleasant stay, with comfortable beds, a private bathroom, a kitchenette and a wooden deck overlooking the forest.
Camping Le Moulin de David is already well known for its warm welcome and quality facilities. With the addition of the Cape Town lodge cabins, holidaymakers will be able to enjoy an even more immersive and original experience. The cabins will offer uninterrupted views of the surrounding nature, as well as greater privacy and comfort than traditional tents.
The earthwork is an important process to ensure the success of this project. Once the Cape Town lodge cabins are installed, holidaymakers will be able to enjoy an unforgettable stay in the middle of nature, while benefiting from modern comfort and an exotic atmosphere. The Moulin de David campsite continues to evolve and adapt to offer unique and memorable experiences to its guests.
---