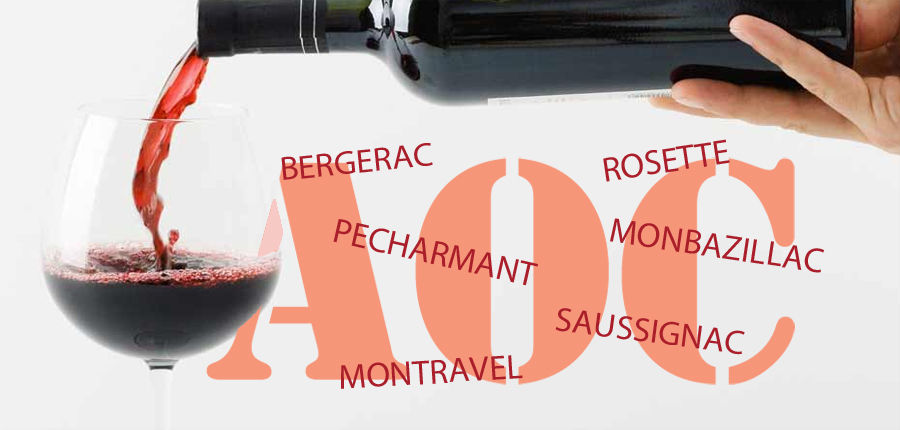 What you need to know about Bergerac
Bergerac is a French wine with a protected designation of origin (AOC in France and AOP in Europe) from the South West vineyards. There is within the appellation a more qualitative name called côtes-de-bergerac with conditions of more draconian productions.

Vineyards of Bergerac: It is also a generic regional appellation with in the Bergerac vineyard. Some areas may qualify for more restrictive local AOCs such as Monbazillac, Montravel, Côtes de Montravel, Haut-Montravel, Pécharmant, Rosette and Saussignac.

The name Bergerac is a recent name. In the twentieth century, during the delimitation of the vineyards of Bordeaux, the limits are set to those of the department of Gironde. The wines of Bergerac, long sold under the generic name Bordeaux, must be created overnight an image. It is September 11, 1936 that the AOC Bergerac is officially born.
Grape varieties

The reds are blended from Cabernet Sauvignon N, Cabernet Franc Nr and Merlot N, sometimes supplemented with Côt N, more rarely Servadou N or Merille N. They often have a dark color, a generous bouquet and flavors. racy.

Whites are blended from Semillon B, Sauvignon Blanc B and Sauvignon Gris G grapes, mainly Muscadelle B, to which are sometimes added Ugni blanc B, ondenc B and chenin B. They are used to make fruity, elegant dry white wines. and powerful or soft and sweet wines sweet, aromatic, powerful and very long in the mouth.

Bergerac wines


The Bergerac: it's a regional appellation. Bergerac can be a dry white wine, a rosé wine and red wine. These are pleasure wines to consume within two years on their fruit. Red Bergeracs are generally fine, supple and quite fruity wines with aromas of strawberries, blackcurrants and other red fruits. Easy to drink, they are wines that need to be eaten young (2 to 3 years old)
The production of Bergerac rosé is recent. These wines are obtained by "bleeding" or short maceration. They are often distinguished by a delicate salmon color and a certain aromatic freshness.
Dry Bergeracs are generally not very colorful and shiny. Fresh, pleasantly bouquet, they are distinguished by a nervous attack and a good length in the mouth. They can be tasted in their very first youth but also when they are 2 or 3 years old. After fermentation, due to their residual sugar content, the white wines of A.O.C. Côtes de Bergerac are sweet wines even liquoreux. More colorful than dry Bergeracs, they are distinguished by their body, their finesse, their sap and a fairly pronounced bouquet. They are long-lived and can be enjoyed and appreciated from the 4th or 5th year after harvest, but can also be expected for many years, 5 or even 10 years or more.
Côtes-de-Bergerac: This AOC has the same territory as the Bergerac (AOC). The Côtes-de-Bergerac red wines are more full-bodied than their cousin, the red Bergerac, thanks to its farming methods and not to its geographical area. It differs from the regional appellation due to its stricter harvesting conditions which make it possible to elaborate rich, concentrated, robust wines, with a greater aging potential, a red wine on display, a soft and sweet white wine. They are powerful and generous wines. They require a few years of cellaring to reach their optimum. In an intense dark color, the red Côtes de Bergerac wines are more structured, more complex and have aromas of candied fruit (prunes) more pronounced than the previous ones. Rich in alcohol, tannins, they have a better aptitude for aging and reach their full bloom towards 5/6 years and can take another 5 to 10 years depending on the vintage.
Montravel: dry white wine and red wine. These are scented wines.
Haut-Montravel: sweet white wine. These are aromatic and sweet wines.
Côtes-de-Montravel: sweet white wine. These are aromatic and sweet wines.
Monbazillac: sweet white wine of long aging.
The Pécharmant: red wine. It is a fine, elegant, medium-aging wine.
Rosette: sweet white wine. This appellation, the smallest of the vineyard produces a confidential wine soft to sweet, fine and elegant. It's a wine to discover
Saussignac: sweet white wine of medium to long aging.