At the Moulin de David campsite in the Dordogne, when we welcome groups, we pay particular attention to catering, adapting to the group's wishes in terms of both the timing of meals and their content.
For example, we think that a group of hikers will want a breakfast served early with a few slow sugars on the menu, whereas guests at a cousin's party will prefer a late brunch-type breakfast.
The breakfast
An essential meal for the group to start an active day on foot, by bike, motorbike or car, breakfast must be adapted to the programme of the day ahead.
It is served to the whole group between 7.30 and 9.30 am on the covered terrace of the snack bar.
We have three possible offers (but if you see things differently, don't hesitate to let us know)
Continental breakfast: a hot drink accompanied by toast (bread, butter, jam, honey, ..), and pastries baked on the spot (croissant, pain au chocolat), fruit juice, yoghurt, sweet cereals.
Breakfast at the Moulin: In addition to the continental breakfast: eggs, ham and cheese
Brunch (served between 10:00 & 14:00): This breakfast-lunch is offered during family celebrations or cousinade.

Group breakfast at the Moulin de David
The Lunch
Your group will leave the campsite for the day. At lunchtime you will always find a nice restaurant to welcome you.
But if you wish to have a picnic on the banks of the Dordogne or the Vézère or in front of a magnificent panorama of the Périgord, we can prepare a picnic basket for you to take with you in the morning and which will enable you to "hold on until dinner".
Le Diner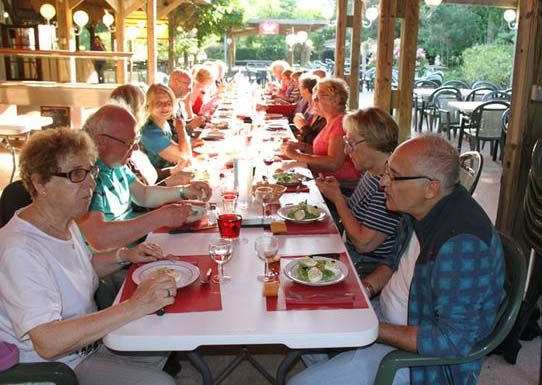 Dinner on the terrace
In the evening, after the group has had a busy day, you will have dinner on the terrace of the Brasserie du Moulin de David. This is covered, closed and if necessary heated. We will serve you a full meal (starter, main course & dessert) accompanied by Bergerac wine.
If the purpose of your visit is a family celebration, our chef or caterer will propose a festive menu according to your wishes (and your budget). If you wish to have a musical dinner, we can put you in touch with a musician, a DJ or other entertainer. Do not hesitate to contact us.
Consult us for your project
We will be delighted to help you organise your group stay. If you would like to receive further information, documentation on the Moulin de David, an estimate, availability, etc...
---
Use our Contact Form  or Call us
---