QUALITÉ TOURISME™ THE STATE COMMITS ITSELF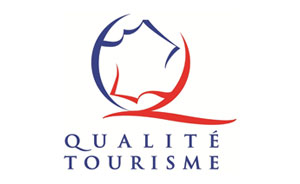 The plan Qualité Tourisme was initiated during the interdepartmental comity of September 9, 2003. To enhance France's image and to develop jobs and create wealth, quality has become the priority for all the federated players of tourism.
Hotels, restaurants, campsites, cafés, brasseries, seasonal rental agencies, tourist centers... already many professionals like the Le Moulin de David campsite have mobilized themselves and bear the badge Qualité Tourisme.
PRESENTATION OF THE PLAN QUALITÉ TOURISME
The plan Qualité Tourisme. is a set of measures for quality put into place by :
networks of tourism professionals,
institutional players of the territory,
or by businesses themselves,
... for that the organizations who follow these measures get the badge Qualité Tourisme™.
THE SELECTION CRITERIA FOR QUALITY MEASURES
The quality measures apply to organizations :
which are in conformity with the hygiene and security rules,
and follow the regulatory rating if it exists.
The quality measures :
follow the national quality commitments,
are based on an external audit,
provide for the compulsory processing of customer's complaints,
provide for the putting at disposal of a customers' satisfaction questionnaire in each establishment.
QUALITÉ TOURISME™ PRESENTATION OF THE BADGE
A brand of trust
Qualité Tourisme™ is a brand which federates the rigorous quality measures taken by tourism professionals like the Le Moulin de David campsite whose main objective is the quality of service for the customer's satisfaction.
Une marque de confiance
Patented by the ministry delegate for Tourism, the brand Qualité Tourisme™ is, for us as well as for our customers, a guarantee of trust.