And if you offered yourself a week of discovery in the Dordogne. Maybe you already know the Dordogne? .... At the campsite Le Moulin de David we suggest you discover a place that you may not know. We invite you to an extraordinary journey that will surprise you and change you. I invite you to discover yourself.
This trip may be for you the departure to a long way, that of the quest for Happiness. As Matthieu Ricard said: "Happiness is not something that happens to us, it is a skill we develop."
Let go !
Vous avez certainement entendu parler des bienfaits de la méditation sur l'esprit, du Tai Chi Chuan sur le corps ... mais n'avez jamais osé fréquenter ces voies dissimulées en vous-même ... Peut-être par manque de temps, peut-être par manque d'aide. Ce séjour est fait pour vous.
Nous vous proposons une initiation à différentes pratiques à l'aide d'un programme d'expériences variées: Méditation de pleine conscience, Tai-chi-chuan et Qi gong, sonothérapie, balades et randonnées, ...

Comme ce séjour est conçu pour votre "bien-être" nous souhaitons vous offrir un cadeau, .. pour vous, ... rien que vous ! Vous choisirez parmi ces deux soins :
une séance de relaxation avec les bols tibétains et/ou diapasons , suivi d'un massage du ventre afin d'éliminer les toxines libérées pendant le soin.
un massage à l'huile du corps (des pieds à la tête) permettant un alignement des chakras,une meilleure circulation de l'énergie, élimination des toxines
Vous allez profiter de ce séjour pour enfin lâcher prise!

The program of the stay
Pour vous donner une idée de la durée des activités :
Les séances de méditation en pleine conscience du matin et du soir ont une durée de 20mn.
Les séances de sonothérapie ont une durée de 45mn
Les séances d'initiation au Qi Gong ont une durée de 20mn.
Les séances d'initiation au Tai-chi-chuan ont une durée de 45 mn
Voici le programme type d'un séjour de 7 nuits du samedi au samedi :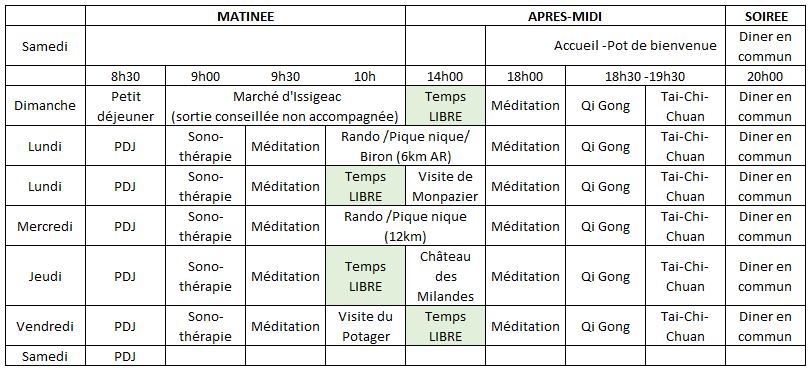 Voici le programme d'un séjour de 5 nuits du mardi au dimanche :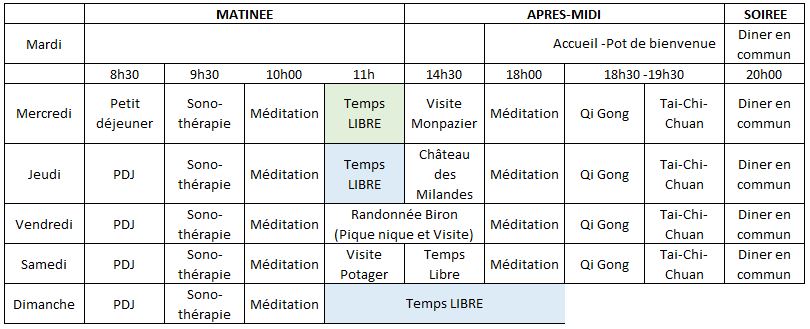 Aucune de ces activités ne nécessitent d'équipement spécial. Des vétements amples dans lesquels vous êtes à l'aise seront parfaits. Pour le Taï Chi Chuan et le Qi Gong des tennis ou des sandales sont conseillées.

half board
For a real letting go we offer you this stay in half-board ... We will start together the days with breakfast and finish with dinner. These meals, taken together, will certainly be a source of exchange and sharing.
Depending on our harvests, we will do our best so that vegetables and fruits come from our vegetable garden created and managed according to the rules of permaculture

Réservez votre semaine "Bien-Être" 7 nuits
Choisissez les dates de votre semaine "Bien-Être" de 7 nuits
du samedi 8 juin (à partir de 18h00) au samedi 15 juin 2019
du samedi 29 juin (à partir de 18h00) au samedi 6 juillet 2019
Tarif en demi-pension

:
466€

pour 1 personne en demi-pension ,
722€ pour 2 personnes* en demi-pension (soit 361€/personne),
978€ pour 3 personnes* en demi-pension (soit 326€/personne),
1234€ pour 4 personnes* en demi-pension (soit 308.50€/personne)
* dans le même mobil-home 2 chambres
Le forfait comprend

:
L'Hébergement en Mobil-home OPHEA2 - 2 chambres (ou similaire) pour 7 nuits
La demi-pension - Petit déjeuner et diner pour 1 personne
Les activités d'initiation : Méditation, Qi Gong, Tai Chi Chuan, Sonothérapie
Les balades et la randonnée acompagnées
panier pique-nique pour la sortie du vendredi
---
Votre CADEAU : Un massage aux huiles tièdes ou une séance de relaxation avec les bols tibétains
---
Ne sont pas inclus

:
les draps (ils sont proposés en option)
les billets d'accès pour la visites des châteaux de Biron et des Milandes
la taxe de séjour (0,41€/jour et par personne)